O, how we love fall time with the beautiful changing trees, to the sweet smell of hot chocolate, the sweaters, hoodies, family gatherings, to the warmth of sitting snuggled up to the people that you love. No matter what it is that is happening, fall always seems to be a lot of peoples favorite time of the year. It could be because of  the holidays that we get to celebrate with the people that we love and care about.  It never seems to fail that there is always a movie night during this time of year.  Halloween seems to be the best time for movie nights, candy, and a bunch of screams.
If you are wanting to have something to do when there is a little down time with your family having a movie night seems to be one of the least expensive things to do.
Well, your probably wondering what the best Halloween movies are of all time. Your probably asking yourself what movies can you watch that would be fun for you, your partner, or possibly even kids.
No fear, elevate ur soul is here lol.
Below you will find a list of some of my favorites as well as the most watched Halloween movies of all time.  Most of which you get the luxury of having them play during this time of year on your favorite channels.
Best  Halloween Movies

For Kids
1. Hocus Pocus( 1993)
This movie originated in 1993 on the Disney channel. This is a family friendly movie that will bring laughs, excitement, and just a wee bit of scare.  This movie is about three sisters who were witches that were brought back to life in  more modern times. As the sisters, try to do whatever it takes to be able to stay a live. Watch this movie with your kids, family, or even as a couple its sure to leave you happy. There is a rumor that they may come out with Hocus Pocus 2 soon.
2. The Nightmare Before Christmas(1993)
With Jack the skeleton as one of the main characters this movie will keep you on your toes with this story plot. Its about a skeleton who becomes tired of only celebrating Halloween, that he attempts to take over Christmas.  See what happens in this movie when Halloween tries to takeover Christmas. This movie has received a 94% on Rotten Tomatoes.  This movie is also available in 3d.
3. Casper(1995)
Who doesn't know Casper the friendly ghost? This is such a funny Halloween movie for the family. This is about a dad and a daughter who end up getting into a home that has 4 ghost in it. This movie will have you laughing more than it has you screaming, but it is  a  great Halloween movie tradition to enjoy.

4. Halloween Town (1998)
This is another Disney classic movie that will give you  few surprises. This movie was so popular that they also made sequels to it as well. The sequels which are also good Halloween movies are Halloween Town Kalabars Revenge, and Halloween Town High . Halloween town is a magical place where everyone is  really a character meaning that its not just costumes, see what happens when Halloween Town is threatened. This movie is so good your going to want to watch all of them.
5. Monster House (2006)
This is a action pact movie that your kids will love. This is about three young kids who suspect that there is something going on with the house of a neighbor. The children suspect that it is alive and is a monster. There are plenty of things in this movie that will make you laugh and leave you in suspense as these kids go through hoops to find the truth about the house.
6.Caroline (2009)
This movie is based  on Neil Gaiman's popular "children's horror" novel. Coraline is similar  to Alice in Wonderland but  a little creepier. Caroline moves to a new home  with her family, that she doesn't like. She is so upset with the move that she starts searching around the home, only to find a door to a alternative world. Watch as Caroline discovers that this fairy tale world isn't such a fairy tale.
7. Pooh's Halloween Heffalump Movie (2005)
This movie is perfect for younger kids during Halloween. This movie is more adorable and funny then it is scary. It will teach your kids about  unconditional friendship and adventure.
8. Its the Great Pumpkin Charlie Brown (1966)
Who doesn't know Charlie Brown and his gang. This is one of the classic Halloween movies that kids will love. This movie show cases how to overcome fear and how to work as a team.
9.Corpse Bride (2005)
This movie is a Tim Burton film that has many curve balls. The character Victor who is very clumsy accidently marries a corpse bride and is taken to the land of the dead. This movie will leave you captivated as Victor has to figure out how to get back to earth to marry his real fiancé.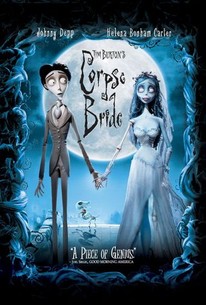 10. Beetlejuice (1988)
A dead husband and wife discover that a family of the living has moved into their house, so they hire a crude "bio-exorcist" to scare them off. The friendship between the deceased couple and Lydia will be enough to make you laugh. But really…Beetlejuice! Beetlejuice! Beetlejuice! Do we need to say more?
11. Gremlins (1984)
Gremlins  are like furbies but a lot meaner. In this movie watch the chaos as these monsters multiply every time they are wet.  Watch what happens when the crowds are screaming and running.
12. The Worst Witch (1986)
This is about a new student who goes to a witch academy. Join her has she goes through many things to fit in and figure out her way in this Halloween tale.
13.Halloween is Grinch Night
Halloween Is Grinch Night is a  Halloween musical TV special and prequel to How the Grinch Stole Christmas!. This movie won a 1977 Emmy Award for Outstanding Animated Program.
14. The Halloween Tree (1993)
The Halloween Tree is a Emmy Award-winning 1993  animated fantasy-drama television movie produced by Hanna-Barbera based on Ray Bradbury's 1972 fantasy novel of the same name.
15.Ernest Scared Stupid (1991)
Ernest P. Worrell  is working as a garbage collector in a small Missouri town.  Ernest ends up waking up a troll that turns children into wooden dolls. Watch this as Ernest has to team up with a lady to bring the troll down and bring the children back.
16. Spooky Buddies (2011)
Who doesn't know the different series of this movie with its first being Air bud. This movie is a hilarious Halloween venture with the same cute dogs leading the way.
17. Scared Sherkless ( 2010)
We all know the dynamic duo Sherk and donkey with there adventures. Well this is a short show that spinned off after the sherk forever after movie.
18. Casper Meets Wendy ( 1998)
What will happen when Casper and Wendy want to be friends but their aunts and uncles try to stop them. The rule is witches and ghost aren't suppose to get along, so what will these two do as they battle this and a evil warlock?
19. Underwraps ( 1997)
Another Disney classic movie for kids. This movie is about 3 kids who come in contact with a 3,000 year old mummy, that they try to help. See what happens when the mummy and the kids have two different plans.
20. Double, Double, Toil and Trouble ( 1993)
Who didn't love the adorable Olsen twins in their younger days? This is about the twins who embark on a mission to get a moonstone from an aunt so that they can save their family.
21. Moms got a date with a vampire ( 2000)
The children start to notice some strange things happening with their moms new date. Is he a nice guy like he says he is or does he just want their mothers blood?
22. Spookley the square pumpkin ( 2005)
This movie teaches your kids how to overcome shame and fear as this little pumpkin conquers his fear and shame of being the only square pumpkin.
23. Winnie the pooh boo to you (1996)
Pooh and the gang are back at it again with a Halloween adventure.
This by no means is all of the children's Halloween movies but it is a start of many great movie nights. So gather up the family, have some popcorn, snacks, and some hot drinks. Spend these cool fall nights the right way.