Happy Birthday Martin Luther King Jr, a true legend in history. Thinking about all the amazing things that Dr. King did during the Civil Rights Movement makes me proud to be able to say that he was a leader of mine. The differences that he made for both black and white people during his time has contributed to the freedom that we have today. All though we may be still dealing with difficulties as a race, it's a phenomenal feeling to know that it is better because without Martin Luther King Jr and many others it could have been a lot worse.
I can't help but to think what Dr. King would tell us now with seeing how much the generations have changed and how much racism still exists. I can't help but to think what he would say about the black on black crime that we have happening right now. Of course with not personally knowing Martin Luther King Jr it would be hard to assume what he might say at this time. But, we can go back to some of the best statements that Dr. King said in the past that could apply to what is going on right now.
This post is honoring some of  Martin Luther King Jr most memorable statements that moved thousands of people into change. Let's show our appreciation by remembering them in our day to day lives and remembering why they were so important.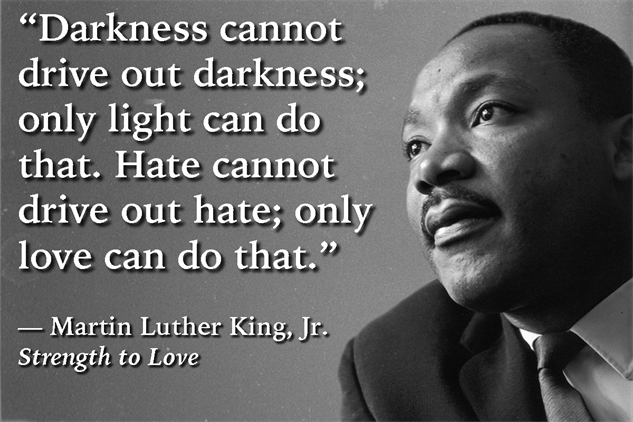 No matter how much darkness may come to us today or the years to come we must stay true to who it is that we are. We must remember the actions that truly change something and the ones that don't. Donald Trump maybe trying to put a bunch of darkness in the world that doesn't mean that we can't be the light. That doesn't mean that he can stop us from loving or being who we were created to be.
No matter the evil that is in the world we must remember that there is always good too. Feed what is good starve what is evil.
Nothing was more powerful in this movement than Dr. Kings " I have a dream speech". Let's remember that although the world may judge us based off our skin color we can still overcome and be greater because we are greatness. The skin color we have doesn't mean anything, its how we choose to deal with it that does.
Hope is something that Martin Luther King Jr was good at spreading. Never lose hope or faith for something bigger than yourself. No matter where you have been, what you have down the goal is to grow and keep moving forward.
The most important thing to remember is to remember that we have a voice. Our voice and our actions are some of the most powerful attributes that we can use to make a difference in the lives of others as well as for ourselves.
Martin Luther King Jr was never afraid to openly express his faith in God. He leaned on his faith more than anything else. We should remember that we have to have faith in the things that we can not see. We must remember that faith is greater than fear.
Sometimes it's not always about who is hating or who is the enemy, sometimes it's about what we do with these relationships that make a difference. Two wrongs don't make a right and we should think about that when we have the odds stacked against us.
The fact that Martin Luther King Jr was able to make such massive change without any violence is extraordinary.  We have to remember that violence does nothing but stir up more violence. The only way to make change is to proactively work together in a smart organized way, that will make differences.
Forgiveness is a powerful tool that we get to control. Sometimes people who don't know any better can't do any better. It is good to have a forgiving attitude because no one is perfect. Not only is no one perfect but not forgiving does more to you than it does to them.
There are endless amounts of quotes that were famous from Martin Luther King Jr that could be added to this post. He was such an intellectual, God fearing, loving, strong advocate that put his own life on the line for others.  We should remember that we as individuals and as a people have the power to make a difference. Now is the time to stand together. Now is the time to remember what are ansectors and our leaders fought for. Now is the time to be proud of the skin that we are in.
Happy Birthday Martin Luther King Jr
SUBSCRIBE to get updates and stay elevated