Nicki Minaj shows us just how complicated social media can be when she decides to use her snapchat for the first time on July 23rd since having it in May.
In her first picture in which she repost her snap code she states "Yo can y'all teach me how to use this? 😨 wtf I wanna show y'all how a bad btch posts her first snap but 🙁😏🙃"
The comments she made showed that she was a little frustrated with how to actually post snaps, and see how many followers she had on snapchat.
Minaj stated "Dis tew much. I'm bout to delete this s–t," she wrote in the comments section of her own Instagram post before asking a series of questions. "Is mine public? How do I see how many ppl r following me? How do u delete the thing u recorded if u don't wanna post it? I just recorded my towel mad times btch help wtf."
Nicki Minaj post her snap code to her Instagram page asking for help and within minutes starts receiving hundreds of calls, messages, and pictures on her snap. Nicki Minaj has someone recording all of the action that was  happening on her snapchat. She tried asking fans to stop calling her as she couldn't even get  to her snapchat settings to edit the privacy. Then on top of that she showed messages of fans cussing asking her to pay college tuition for them because of what  she did back in May of this year when she paid off multiple tuition for several students via a tweet from a fan.  The flip side of that was getting fans that were  saying things like " Yesssssssss Queen, I love you", in which Nicki Minaj replied with kissy face emoji and some words.
As some may know that SnapChat was founded by Evan Spiegel and Bobby Murphy in 2011. The social platform has since then been booming uncontrollably and has  continued to make greater changes.
But even with  great changes, for first timers understanding how to use snapchat and the benefits of it aren't always clear.
However the social media platform after you learn how to actually use it can be a breeze.
Nicki Minaj shows us this after finally getting the hang of it and posting her first post of an ocean view.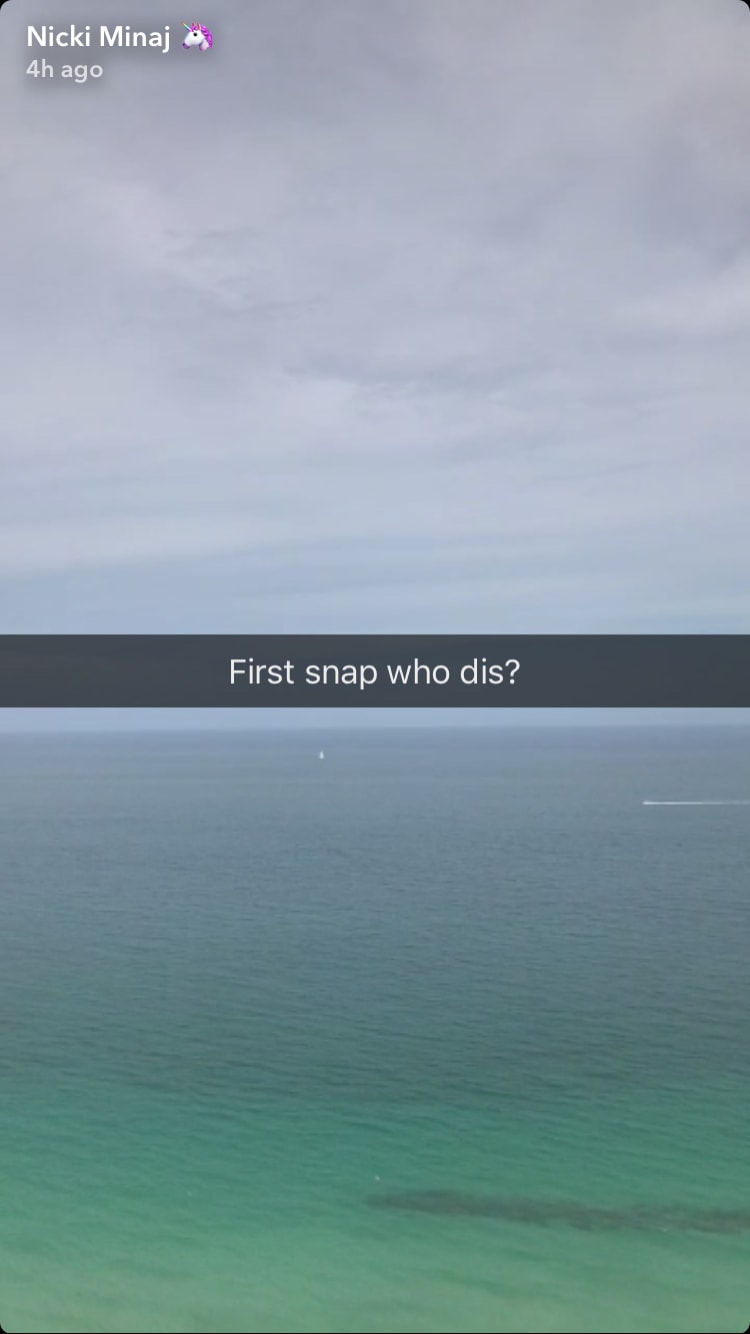 We can learn that even celebrities need help sometimes. Nicki Minaj can surely conquer snapchat if she can conquer being the top female artist on the Billboards Hot 100 Hits.
Now thanks to Nicki Minaj we see why the privacy feature is so important.  😉
Add Nicki Minaj Snapchat : nickiminaj
Don't forget to add my Snapchat: elevateursoul and subscribe for more elevation ❤